MADE IT! We are here!
2010
.
It's a new decade! GOODBYE 2009!!!
I hope 2009 has been as good to you as it has me..... well, ok, lets all be honest, 2009 was kind of a crap (financial) year. Jobs were lost. LOTS of jobs were lost. However, amongst the terrible economic year Ive been lucky enough to start a new life here in London. A slow go to start, but picking up day by day!! 2010 will be a great year i can feel...
My 2009 started in Sydney Australia. It was hot, sunny and filled with new adventures! I made some great friends during my stay there - from work to the gym to of course -- LEE! Leaving there in February was bitter sweet. It was a short stay there but I was also happy to move on. hmmm..i wonder when i'll go back - there is still so much to see in that beautiful country!
The middle of my year 2009 felt a lot like a holding period, waiting to feel settled somewhere, waiting to start from scratch. From Moms house to Christina's house and back again, I tried to help out as much as i could around the houses after i fully recovered from mono (aka glandular fever to some of you). I loved being back in Shrewsbury seeing old friends, meeting up with some i hadnt seen since high school and of course, getting as much Tiber time in as possible!
After his South America trip, Lee came to the USA for a full stop tour around Florida, Georgia, and Massachusetts to meet all the DiPierros and friends. 2010 will see another trip for sure.
The end of my 2009 has been filled with even more new friends in a whole new country. The United Kingdom! Lee's family have been unbelievable hosts and have really helped me feel welcome here. I am really looking forward to all that 2010 is going to offer...
Some NEW YEARS PHOTOS..
A group shot (minus the guy taking the photo of course)
Our View of the Fireworks!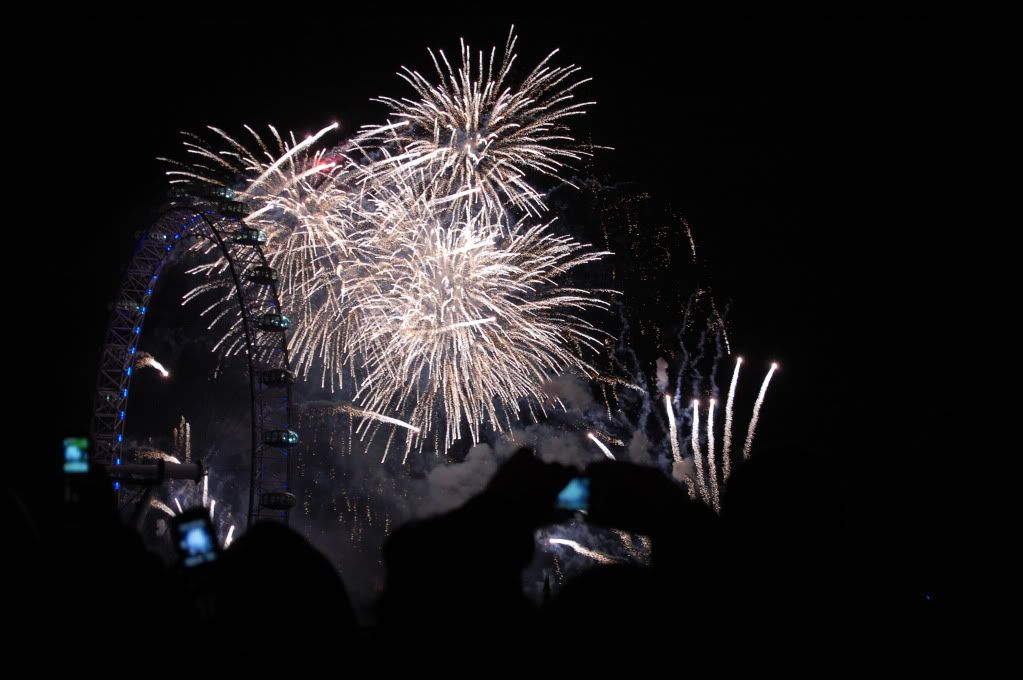 The Masses of people headed to Waterloo Station after the firework display..
SNOW JUST AFTER MIDNIGHT!!
I had mentioned that i would share with you my New Years resolution from 2008. This list still applies for 2010, however this week i plan to add a few more. I'll share this list at a later time...:
2008
Eat more like a
skinny bitch
(yes, ok, this is from the book which was very popular that year. I do like meat and candy and soda, so my motivation was smaller amounts and better moderation.)
Get therapy for my heel (DONE)
Travel to aussie/new zeland (DONE!)
Read at least one book a month (still trying this)
Take a bath once a week (ehhh... not sure i'll ever do this)
Mask twice a week (YES! ... at least once a week)
Pedis once a month (not this past year thats for sure!)
Use better products (hair, face, cooking...i will always try)
Generally be happy in ATL OR Move to boston.. (hahahaha, WELL .. i guess i sort of did that! I LIVE IN LONDON NOW!!! Alas, im still tied to Atlanta...)
Cook more (I DO!)
Have a dinner party once a month (well, lets change that to a GAMES party once a month!)
Below i posted a video from the London fireworks - check 'em out! (if you have clicked this thru facebook, you'll need to go to the actual blog page to see older posts i think)